The Dress:

Dress from Modcloth.com for $58.00 CAD
For this edition of `The Three Way` I picked a simple, sheer v-neck black dress from Modcloth.


Day:
Sweater & Dress from Modcloth.com, Scarf from Forever 21, Boots from Heels.com
I went for a sort of boho-chic look here.  I just love the coral and mustard shades together.  I think it`s really fresh and adds some  much needed color to the LBD.
Work: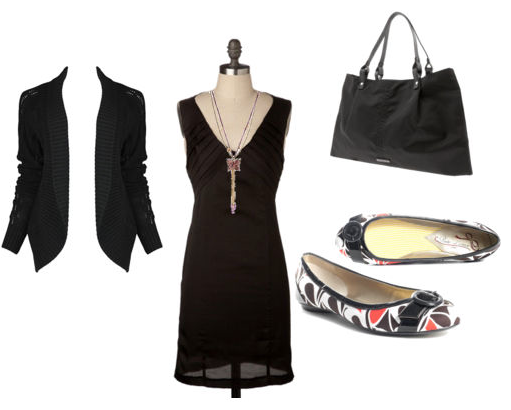 Dress from Modcloth, Sweater from Forever 21, Flats from Heels.com, Necklace from Betsey Johnson, Bag from Banana Republic
Working in an office doesn`t have to be boring.  Dress up your LBD with some fun accessiories and a low heel.  Cardigans are an office staple (for me anyway) I`m typically either too hot or too cold.  It`s nice to layer, without looking frumpy.
Night: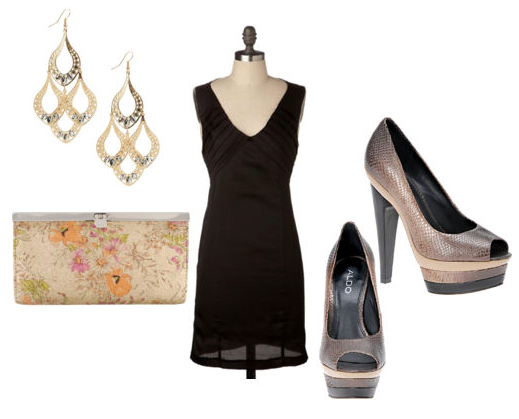 Dress from Modcloth.com, Clutch and Earrings from Forever 21, Pumps from Aldo
Most people think that night looks should involve bright colors, too much makeup and not enough clothing.  I love this look.  The platforms are sky-high and totally fun for a night out, but in a nice neutral tone.  I kept all of the accesories neutral and mixed a few different patterns.  I think the overall effect is classy and stylish.